Enhance Your Blog Structure Effortlessly & Boost Visitor Conversions - Discover 2 Easy New Features
---
We know that marketing can be confusing and time-consuming, especially when you're trying to juggle a million other tasks.
That's why we're excited to share two super easy feature updates with you: the Blog Section Table of Contents for Custom Blog Posts and all of our Guided Prompt-based Blog Post Formats and the Sidebar Call-to-Action that extends our Call-to-Action Management Features.
These updates not only build on our existing features but also promise to make your marketing just work with minimal effort. So, let's dive in and explore how these simple yet effective tools can help your business grow.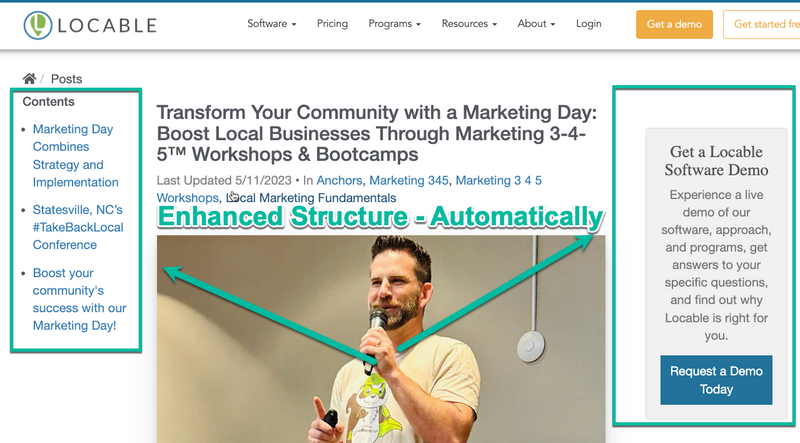 Benefits of Structuring Your Blog Content
Let's dive in and discover how these two easy-to-use features can improve your blog content effectiveness by improving the structure of your content:

User-friendly experience with a clean, organized blog section table of contents
Improved conversion rates with a sidebar call-to-action
It-just-works so you get benefits immediately
Increase content discoverability, attracting more visitors to your site
It's already in your Locable account
Blog Post Table of Content Sidebar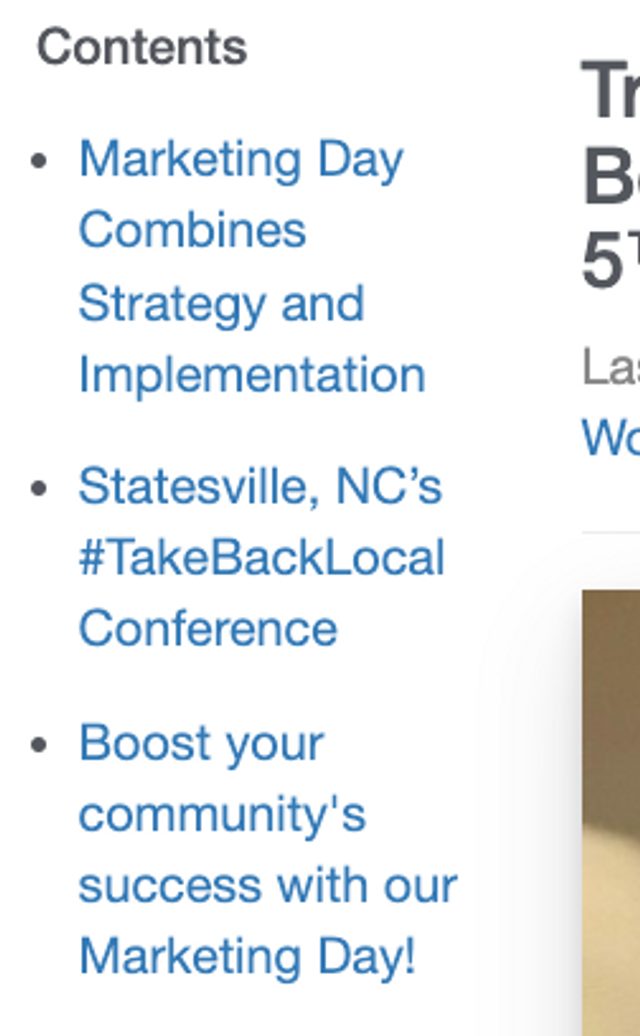 The Blog Section Table of Contents feature offers an organized overview of your content, making it super easy for users to navigate and discover your valuable insights.
This improved user experience keeps visitors on your site longer, boosting the chances of turning them into customers.
It may also expand how you appear in Google search results providing more traffic.
Blog Sidebar Calls-to-Action
Our Sidebar Call-to-Action feature is designed to make your marketing efforts more effective by displaying a clear call-to-action (CTA) on the desktop view right next to your content.
This makes it simple for users to take the next step in their journey, increasing conversion rates.
You can still add links and CTAs in-line as you go and at the footer, but this additional above-the-fold CTA ensures your message won't be missed.
Both of these features are part of our platform, and anyone using our tools can easily leverage them. If you have any questions or need help, just give us a shout in the help center.
Our goal is to make marketing less confusing and time-consuming, so you can focus on what you do best – running your business.
By introducing the Blog Section Table of Contents and Sidebar Call-to-Action features, we're giving you simple tools that not only save you time but also make your marketing work with minimal effort.
Give it a try today and watch your business thrive!
Originally posted by Locable via Locable

5.0
(80 Reviews)


Locable

929 Winchester Hwy, #103
Fayetteville, TN 37334
www.locable.com

Mon, Tue, Wed, Thu, Fri

9:00am- 5:00pm