Don't Be Their Marketing Department: Empowering Businesses to Stand on Their Own Two Feet
---
Community marketers support local businesses
As community marketing organizations like Chambers of Commerce, Tourism Boards, and Main Street Programs, it's common to encounter businesses that expect you to handle their marketing. However, the key to supporting local businesses is not by doing their marketing for them, but rather amplifying their efforts.
Locable has worked with hundreds of communities through our Community-Wide Initiative Program and software solutions as well as through our Marketing 3-4-5™ training programs such as our recently announced Marketing Days. The goal is always to improve their marketing strategies, support small businesses, and build engagement with locals and visitors.
It's important to realize that your responsibility as a community marketing organization is to amplify the marketing efforts of small businesses, not to replace their marketing strategies.
Your responsibilities do (NOT) include marketing for small businesses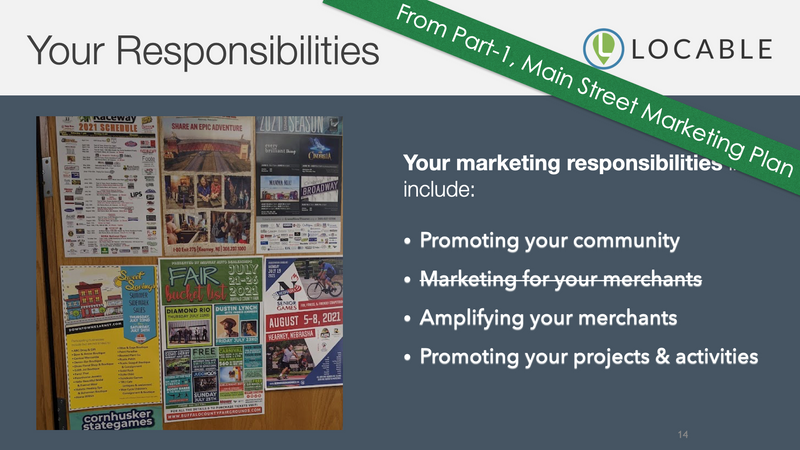 During our talks at the National Main Street Conference and other venues, Brian has consistently stressed the importance of simplifying local marketing. By doing so, you empower businesses to effectively market themselves in a short amount of time. This enables them to focus on the 4 reasons people work with them:
Experience
Expertise
Likeability
Values
These are the things that make them unique while you're able to amplify their reach and impact - one of the 5 ways people find them.
It's crucial to remind your local businesses that it's not your job to do their marketing. Instead, focus on providing the tools, resources, and support to help them succeed. Locable's software, training programs, and full-day marketing workshops are designed to assist you in this mission.
If local businesses aren't part of the solution, you don't have a solution
By involving small businesses as active participants in their own marketing efforts, we create a collaborative environment where local marketing can truly thrive, be impactful, and become sustainable. Encouraging business owners to take charge of their marketing initiatives fosters a sense of ownership and pride in their community, leading to more meaningful engagement and lasting success.
Plus, our Local Connections™ features enable businesses to cross-promote one another automatically and equips you to showcase local businesses with nearly zero effort with tools like our Self-Updating Community Calendar.
This shared responsibility between community organizations and businesses not only lightens the load for marketing organization staff but also allows them to focus on value-added, soul-fulfilling work that aligns with their mission.
By reducing busywork and burnout, staff members can dedicate their time and energy towards developing innovative programs, fostering stronger relationships, and cultivating a vibrant community culture.
In this way, we can create a synergistic ecosystem where both community organizations and businesses can grow and prosper together. By joining forces and harnessing the power of collaboration, we pave the way for sustainable success, ensuring that local marketing efforts resonate with residents and visitors alike.
Let's continue to empower our local businesses and support our communities as we all work together to #TakeBackLocal and make a lasting, positive impact.
Originally posted by Locable via Locable

5.0
(80 Reviews)


Locable

929 Winchester Hwy, #103
Fayetteville, TN 37334
www.locable.com

Mon, Tue, Wed, Thu, Fri

9:00am- 5:00pm