Introducing Locable's New Pricing Plans, New Features Comparison, and New Massive Nonprofit Discounts
---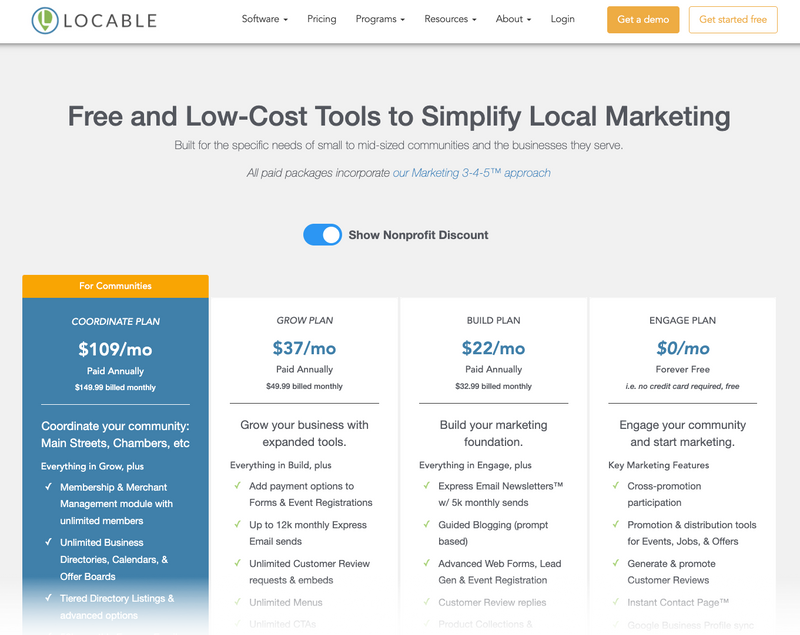 After years of development, Locable can now offer a complete turnkey marketing platform for local businesses, nonprofits, and merchant associations.
To celebrate the progress we've made, we just introduced updated pricing and a complete plan comparison to make it easier to find the right plan for you.
You'll also see the discounted price you pay for annual prepayment clearly displayed above the month-to-month rate.
Note, existing paying customers can continue on their legacy plan or choose to move to a new plan.
A quick tour of Locable's pricing plans
As you can see, our free Engage Plan continues to provide a great option for businesses and nonprofits to get started with local marketing, simple e-commerce though an Online Storefront, and use our Local Connections™ tools to cross-promote and distribute their content.
The Build Plan enables you to build a solid marketing foundation by adding important features such as Guided Blogging, Express Email Newsletters, Event Registration, Menus, and more.
Our entirely new Grow Plan expands on Build with more capabilities and, well, more everything. It also introduces our form-based payment solutions to accept donations, charge for event registration (tickets), and other registration uses - all without any extra fees, transactions are powered by Stripe as the merchant processor.
Finally, the Coordinate Plan is specifically designed for local Main Street & Downtown Associations, Chambers of Commerce, Tourism, and other business associations. We add a number of tools built to streamline managing a community and reduce cat-herding - that is the technical term. Our Membership management module enables recurring billing, communications, and more all with integrated marketing tools while Mercantile™ enables a multi-merchant marketplace on your website that acts a bit like an online farmer's market.
All of the paid plans can be paired with a website powered by Locable or the software tools can be used in conjunction with a 3rd party website platform with our simple integration options.
New Nonprofit discounts
We're excited to announce new nonprofit pricing available to new paid nonprofit accounts*. Nonprofits can save on all of our paid plans.
With Grow, nonprofits can handle donations, event registration & ticketing, email marketing, and more.
To request discounted pricing, sign up for a free account, and contact support with your organization's name and website.
*Some conditions apply
Originally posted by Locable via Locable

5.0
(80 Reviews)


Locable

929 Winchester Hwy, #103
Fayetteville, TN 37334
www.locable.com

Mon, Tue, Wed, Thu, Fri

9:00am- 5:00pm