Directory Listings and Why Your Business Can't Live on Yelp Alone
---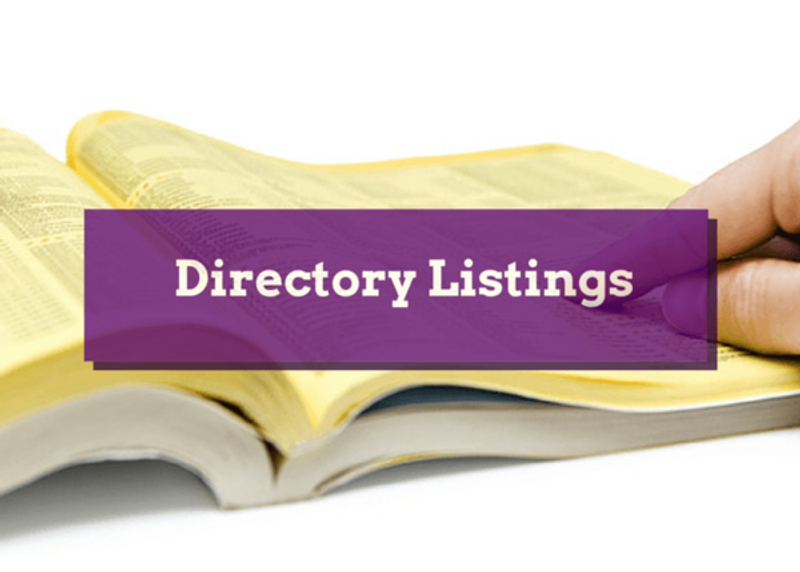 Directory listings are essential for any local business owner but can be tricky to manage. At first glance, it may seem like you want to be listed in as many places as possible to give your business the most chances to get noticed but in reality choosing the RIGHT places is much more important. Online directories are also where almost all your online reviews typically live so they serve an important role in managing your online reputation.
Listings on the "big" sites such as Google Places, Yelp, Bing and Yellow pages are important, but you can't count on them as the only place to list your business online. You should definitely be listed on 1 or 2 industry-specific listings, such as Healthprofs.com for health professionals, and you should strongly consider listing your business with your local publication as well.
In this post, we will explore some of the limitations of Yelp, since it's the most commonly understood by small businesses, and how you can benefit from being listed in your community publication in addition. Let's start with Yelp...
Limited Demographics
Yelp has a large audience and is very popular in many areas. However, it still has its limitations. According to Quantcast, about 50% of Yelp users are under the age of 34 and they have the highest affinity for Food & Drink. That means even though a lot of people may use Yelp they may not be looking for services in your industry.
You're Not in Control
Yelp limits the level of control you have over your reviews. They have an algorithm that automatically filters some reviews and it believes that not all reviews are created equal. They frequently filter good reviews and discourage business owners from asking for reviews. While this makes sense for fairness, it makes it tough for business owners to build an online presence. If you are just starting out and you ask for reviews from your best customers, many will get filtered out.
On Yelp, potential customers may not even see a description of your business because customer reviews are shown first. Even a good review might not display the information about your business you would like to pass on to the customer. This means one bad review can really hurt business because it's the first thing people see.
Now that you understand some of Yelp's limitations you can see why it shouldn't be your all-encompassing web strategy. It's a powerful tool for a local business and you should have a listing, but these limitations can cause problems. Like Facebook, Yelp also has the ability to change their algorithm at any time. You could be sitting at the top of search results one day, and then buried the next. To avoid this look at other directories that you have more control over.
Notice the Businesses Comments are Below the 1 Star Review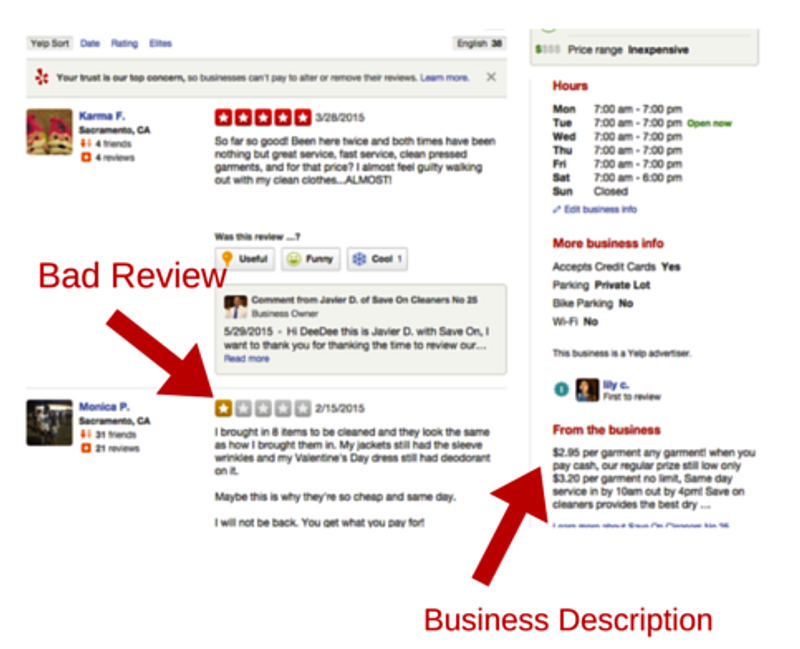 The Power of Your Local Publisher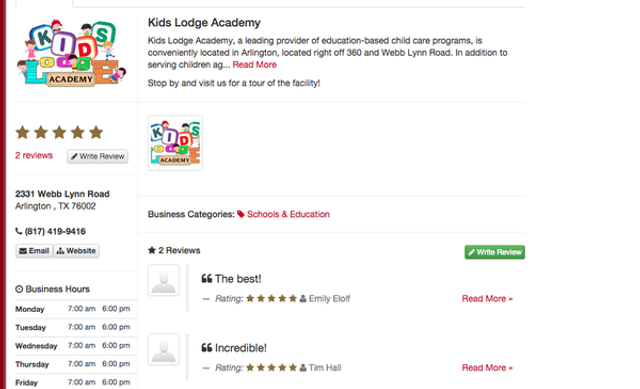 There are some huge benefits to featuring your business in the directory of your favorite local publication. Local publications are great because of three factors: content, context, and credibility. Let's explore how your business can benefit.
Content
The most important reason to choose a local publisher is the publication's content. It is high quality, localized content that is relevant to your community. This is huge as a business owner because you know the people reading it are great potential customers for your business. This results in attracting higher quality customers to your listing.
Context
A well designed local listing will allow the business to control the narrative. For example, on sites powered by Locable's Community Content Engine, the first thing people will see is your business description written by you. This is something you can't control on Yelp. Below your description, they will see any customer reviews you have as well as any related events that are in the calendar. By flipping the order, you create context and reviews are used as reinforcement rather than information.
In addition, if you are ever featured by the publication, they can link directly from the article to your business listing. That way when people read about your business, they will quickly find your listing and have the ability to go straight to your website. The will help raise your rank on Google.
Credibility
Local publications are one of the most trusted sources of information in a community. Therefore, your business will enjoy the added credibility that comes with being associated. Having a directory listing with your local publisher is not only a way to showcase your business but also show support for your community. Readers frequently include movers and shakers, exactly the kind of people who you want to know about your business. This kind of added exposure can provide real results for your business.


Yelp vs. Community Publications – Final Thoughts
As we have said, we believe both Yelp and Community Publisher Directories are essential to your online success but here are a few other considerations:
Audience: Community publications will tend to have a more community-oriented demographic while Yelp listings may be somewhat limited to the demographics we covered earlier.
Cost: Premium directory listings with your local publisher are usually much cheaper than a premium Yelp package. Yelp can start anywhere from $200-$600 dollars a month depending on your industry. In a local publication, premium listings are typically $50 dollars or less a month, much more affordable for the average business owner.
Bonuses: It's also possible you might be able to get a published article about your business, in which case you have the added benefit of readership from that article. This is the type of coverage simply not possible with Yelp. Local publishers may also be able to provide you with a badge to showcase your affiliation on your site.
Next Steps
Do some research on your favorite local publication and how they handle online directories. Many local publishers offer free listings for local businesses, including all members of the Locable Publisher Network. After you have created your free listing, check what it takes to upgrade to a premium listing and ask what benefits you will receive. Will you be able to get a story on their website or in print? Are there any badges you can put on your site with reviews? These are all sources of credibility you can only get from a local publisher, so they are important questions to ask.
---
Want to ensure you have consistent data across dozen or even hundreds of directories and apps?
Originally posted by Locable via Locable

5.0
(80 Reviews)


Locable

929 Winchester Hwy, #103
Fayetteville, TN 37334
www.locable.com

Mon, Tue, Wed, Thu, Fri

9:00am- 5:00pm