Local Website Teardown: Total Perfection Mobile Detailing
---
Problems:
Overly simple
We advocate for a simple design that is easy for customers to follow, but this site takes it to the extreme. There is just not much to this site. We don't get any background of the business. We have no information about detailing services, other than they exist. Listing "Website Under Construction!!" is it's own problem. Every day this site stays up is potential for lost business. At the very least this site needs some kind of page about services that are offered, a page for how the business was started, who the owner is, and a handful of pictures. Simple changes like that are not hard to execute and will make a world of difference.
Why it matters:
Customers that visit the site may stay for very little time and there is simply not enough on the page to help them take action. Even potential customers that are referred to this business may choose to go elsewhere because they are turned off by poor site design.
How it can be fixed:
Adding a simple navigation bar to the top of the site and adding a few pages of content about the business's story and services. This simple tweak will make a huge difference.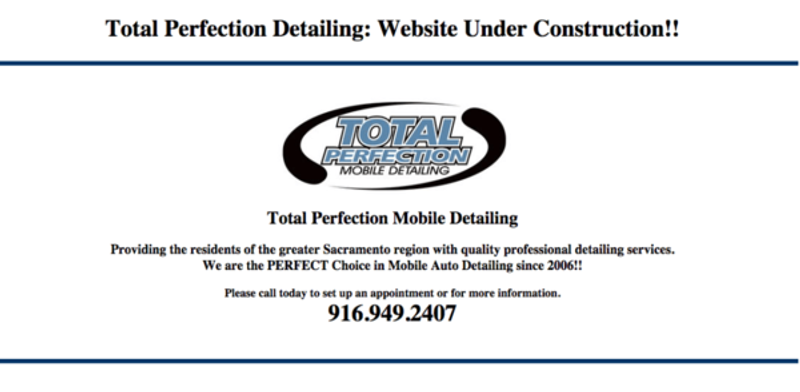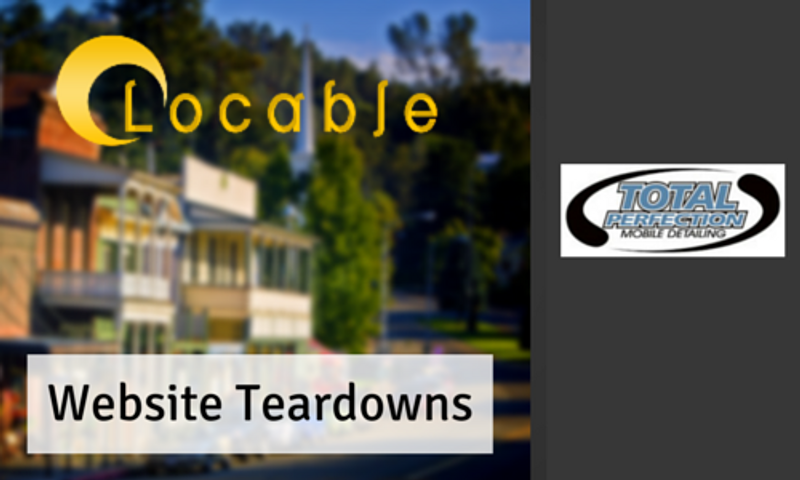 Today we are taking a look at a business's local website in Sacramento, Total Perfection Mobile Detailing, that we think is having some issues with their online presence. We are going to give some pointers on what is going wrong and how that can translate to lost customers.
It should be said that we have not evaluated this business's service or actual business methods other than online presence. This teardown applies to the website and online marketing only and from what we can find this business actually excels at what they do, they just need help with their online presence.
Website: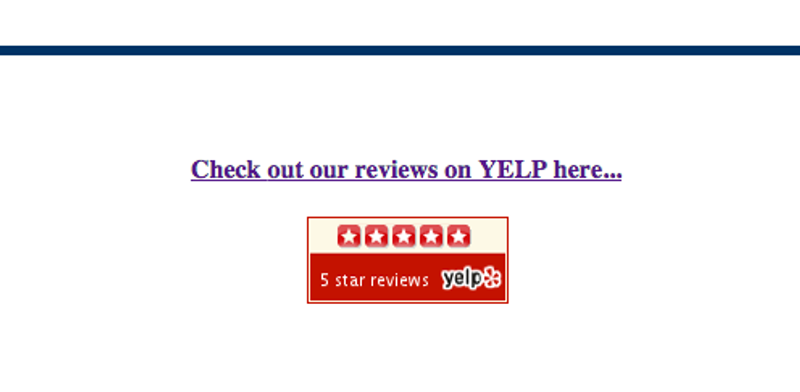 Not much credibility
There is little on this site to convey confidence to the customer. It is obvious from looking at the businesses Yelp! reviews that the owner has a commitment to quality and customer service. This is apparent nowhere on the website. It is a shame because this business owner is clearly knowledgeable about his field. It is a good first step highlighting his presence on Yelp! because of the terrific reviews, however your site should be strong enough to stand on it's own because only a fraction of people that visit will take the time to click the Yelp! link as well.
Why it matters:
Potential customers have no reason to trust this business over others. Many people are very particular about their cars and this website does little to earn their trust. When you do nothing to get visitors to trust you, they will go elsewhere quickly.
How it can be fixed:
Add a page of content that includes external reviews site like Yelp! along with prominently featured reviews and testimonials that the business collects on its own. The social proof will add huge value and help prospective customers make up their mind and be that much more likely to pick up the phone.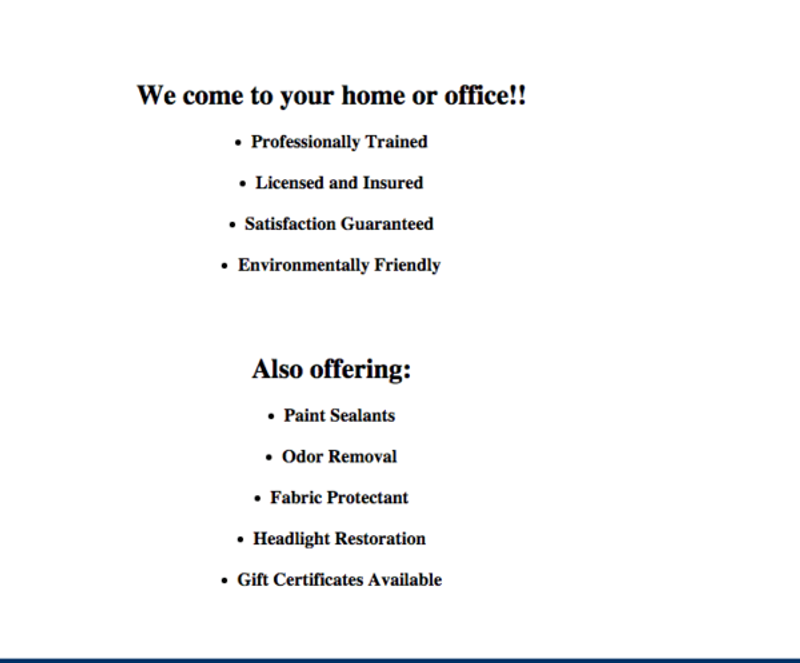 No real explanation of what services are offered poor call to action.
After reading the entire site, you still don't really have an idea of what the actual service will be. You know that they offer detailing and will come to you, but you don't know what specific services are included, what to expect, or how long the job will take. You don't know if the detailing is a really deep clean or more of a surface level job. You don't know if there are tiers of packages or just one service. A close viewing of their Facebook page shows engine detailing is offered, this is a unique service that would set them apart from competition, but you would never know this by visiting their website.
Why it matters:
These are all determining factors in the eyes of potential customers before they make a buying decision. Without having any of this information, it makes it hard for anyone to pull the trigger and make the call. They don't even have a clue whether or not this business can fulfill what they are looking for, why would they pick up the phone? This is absolutely detrimental in the case of referrals as well. Without this information people that were referred and were planning on using the service may actually decide NOT to call.
How it can be fixed:
Adding a better call to action is a simple fix that will help this business ASAP. Rather than "Please call today to set up an appointment or for more information." The line could be tweaked to "Call now for your personalized free no hassle estimate" This accomplishes two things, it gives both a sense of urgency to the prospect along with eliminating fear of the hard sell in the customers mind.
No Pictures
This is a huge, huge problem, probably the biggest on this site. A detailing business relies on MAKING CARS LOOK BETTER. This is an obvious chance to show expertise and the level of service they provide. Before and after pictures are a GIANT missed opportunity for this business.
A close inspection of their Facebook page shows that they actually have a huge amount of photos of past work and some great before and after pictures. But they are very hidden and the typical customer will not take the time to dig that far. It's actually very tough to even find that their Facebook page exists let alone dig into pictures that were posted years ago.
Why this matters:
Customers can evaluate their work and make a decision ASAP with visual information. If potential customers reach the site and don't see any pictures it can also create mistrust. I.e. "What is this guy trying to hide??" All of this will result in lost business.
How it can be fixed:
This is a pretty simple fix. Just add the pictures they already own to their site. There isn't a lot of fancy camera work necessary. Simple photos are fine as long as the work shown is high quality. Even just one before/after shot would be a HUGE improvement.
Overall evaluation:
This site needs (A LOT OF) improvement. I don't think any business owner would call this a good website.
That's OK; the steps to take to correct it are actually quite simple. They just need the right tools. With all the great pictures on their Facebook page, this website needs just a few more images along with some navigation to pages explaining some of the core parts of the business, and they will begin to see much more customers flowing in from their online presence.
Although these problems are all very damaging to gaining customers online, this business shouldn't be discouraged. They just need help addressing these issues in order to turn their website from a liability into a money maker.
If you would like to learn more about how our IMPACT Marketing Suitecan help handle all the problems listed here and more, click here.
Originally posted by Locable via Locable

5.0
(80 Reviews)


Locable

929 Winchester Hwy, #103
Fayetteville, TN 37334
www.locable.com

Mon, Tue, Wed, Thu, Fri

9:00am- 5:00pm