Walk For Life
Come enjoy the beautiful outdoors!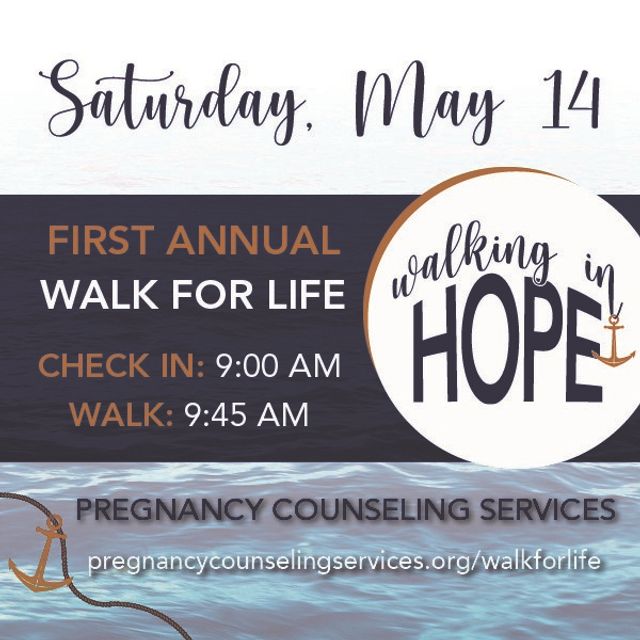 Description
is is a fun, family fundraising event, which will help support PCS and give community presence as we march along downtown with our balloons. You can start now, it's quick and easy with a welcome video to show you how you can have your VERY OWN fundraising page.
We will be starting at 9:00 with registration, then taking a short walk downtown and back, maps and instructions will be provided day of.
Bring your OWN PICNIC LUNCH, picnic chairs, and whatever will make you comfortable while you are enjoying the festivities after we return from our walk. DRINKS will be provided.
There will be carnival games, announcements, fellowship, client testimony and much more.
We are looking for volunteers to help with the following:
- T-shirt table
- Detail oriented persons to help with registration
- Will need to be computer savvy
- Parking Lot Attendees
- Crossing Guards
- Baked goods to be brought on the DAY OF for the Cake Walk
- Donations for baskets to gift to Top Walkers
Email [email protected] for more information
- Other volunteer needs
For more information about the Walk and how you can sign up and start fundraising... please click HERE FOR WALK FOR LIFE.
This is an opportunity for PCS to connect with the community allowing walkers to tour the facility, hear about what we do and be able to raise funds for a great cause.
We are looking forward to seeing you Saturday, May 14!
Pregnancy Counseling Services
3105 Cedar Ravine, Ste. #103, Placerville, CA 95667
9:00 AM PDT
to 2:00 PM PDT
Private:No
RSVP Required:Yes